I recently became aware of  MyDraw.  It is a simple to get-started and simple to use, yet powerful, diagramming software.
One of the main reasons that I'm using it is that it can read and write Visio.  I don't want to use Visio, but I very often get Visio formatted files that I want to view and sometimes edit.  MyDraw fits the bill.  BTW – did I tell you that it is powerful – but also extremely affordable.  It is just $69 to purchase and there are coupons for 50% off.  Buying it is a no brainer and for that price you get a license to run it on 2 different computers – awesome.
It is software that you install on your computer – it is not cloud or web based.  This is both good and bad. You can't access files via a web interface, but also you own, forever, the software for a one time fee!
Everyone knows about Visio, but it has a steep learning curve (meaning that it is really powerful, but not intuitively obvious and difficult to get started with) and it is really really expensive.
MyDraw is also very powerful, but is really easy to start your first professional looking diagrams, can be used on both Mac
s and Windows (where is Linux – I'm running mine using Virtualbox on Manjora Linux – more on that in another post) and as I said – is right priced.
It uses a nice drag and drop interface with many predefined templates (org diagrams, flowcharts, floor plans, process diagrams, even family trees) with over 700 good looking shapes ready to use.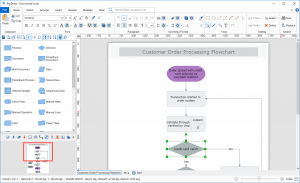 To share your creations with others you can export your diagrams into PDF, JPG, PNG, GIF (pronounced GIF with a hard G, not JIF which is peanut butter – and I have the jar to prove it).
You can import from Excel, GEDCOM, Visio and others.
MyDraw has a number of UI themes (called Skins) to configure for your own best use and has built in support for a number of different languages.
The minimum system requirements for Windows is:
Windows XP (YES XP!!!), Vista (does ANY still run VISTA), Win7 (I use this under Virtualbox and it runs fast), Win 8, 8.1 or 10
.NET 3.5 or higher
600MB disk space
On a Mac you need:
MacOS 10.9 or higher
600MB disk space
The software has a 30 day return policy – no questions asked.
I wish that they also had a web based version and really wish they would put out a Linux native version.